GS Trac- II
The GS Trac - II was a piggyback harness and container system built from the mid to late 1970's by Green Star Systems. The rig was 'super lightweight' with a streamlined wedge shape for fast and safe RW exits.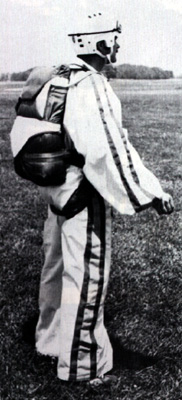 Container Sizes:
3 sizes were available for the main container and the reserve container fit most 24 and 26 foot diameter canopies. The reserve had soft loops, not cones.
Colors:
3-color rig:

Black with red trim (main and reserve flaps gold)
Blue with white trim (main and reserve flaps black)
Red with white trim (main and reserve flaps black)
2-color rig:

Blue with black trim
Black with gold trim
Black with kelly green trim
Red with black trim
Solid black
Harness:
All systems had black harnesses made from Type VII webbing. The harness came in 3 sizes.
Release System:
Capewell releases were standard, but for an additional $10.00 one could get R-2 releases.
Main Deployment System:
A regular ripcord or soft pull main ripcord were standard. Pull-out was $20.00 extra.
The harness and container was TSO'd under TSO-C23b and Far 21 and FAR 37.
Weight:
8 pounds.
Cost:
Base price $229.00 (1977)
Safety Notices:
PEIA newsletter reported an incident from Dick Paoliello that the reserve rubber bands stuck to the brass grommets because of a chemical reaction. He suggested that nickel plated grommets be used instead of the brass grommets.
---
---