Featured Exhibits
Use the Site Map to see all new articles. Not all are listed here.

Hans Schmidt - photos of Hans and his c1949 Switlik parachute.
MANDATORY - BEFORE NEXT JUMP Service Bulletin - about ripcords. Issued 7/16/03 WARNING - TEST 1 in this SB may bend pins. The US Air Force has tested 300 rigs with no pin bending. No info on Test 2.
More Humor
Canopy Control, Hook Turn and Turf Surfing Training
Fast Forward to the Year 2050.
The Great Dropzone in the Sky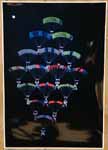 Night CRW 16-way Diamond
Roger Nelson - a brief account of Roger Nelson's life.
Rod Pack's Chuteless Jump - a photographer's account of Rod Pack's controversial stunt on January 1, 1965.
The Eternal Skydiver - science fiction story by Lori Spring.

Is Device Dependency Anonymous for You?

USPA Achievement Award

Para-Golf - the ultimate poster that every para-golfer needs.
Put a copy of the 2003 USPA SIM on your computer.
CSPA Revises Licensing Standards
NORM Elections - On this page you will find the names of the candidates for the Board of Directors of the National Organization of Ripcord Maldroits (N*O*R*M).

Katchen Paulus jumped in the 19th century.


SkyPeople has moved to ParachuteHistory.com. Browse or search for people. Email addresses are hidden.



Four Man Relative Work Reviewed - early relative work advice from John Jefferies.

Historical Voter Turnout of USPA Elections

Bored Jumpers do Something Different - action adventure in the Cascade Mountains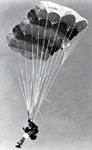 Parasled - - one of the first ramairs for sport parachuting

Complete Collection of 2001 ParachuteHistory Newsletter - Get all of the stories from the 2001 Newsletter. Fun reading!
Personality and Prediction in Aviation - Jens-Henrik Johnsen provides details about skydivers and their personality traits. Learn what motivates jumpers of various skill levels. Are there differences between skydivers and the general population?
USPA BSR - Basic Safety Requirements formatted for online viewing. (*.pdf)

USAF Freefall Training - The US Air Force Academy provided tower training that added some apprehension to students.
1958 World Meet Rules - amazing rules for Style and Accuracy
Solid Cloth Parachutes - Derry, Tojo, Double L, TU and many more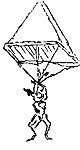 Historical Review
- parachutes of all sorts of shapes and sizes, from DiVinci's sketch to the largest ramair parachute ever built.

World Parachuting Championships
- Timeline of Style and Accuracy World Parachuting Championships since 1951.


Cliff Winters
- a CRAZY guy! low altitude pull-off jumps to straight jacket jumps.


Strong Wrap Single Point Canopy Release System
- an early single point canopy release system for sport parachuting, based on prototype work of Dan Poynter.


Pieces of Eight Records
- Al Krueger and Larry Yohn lead a group of amputees to several record jumps.


Teddy Hamms
- Teddy Hamms attracted attention of many free fall photographers and provided inspiration to Bob Sinclair and Ken Coleman.


Record 27-way Star
- Mitch Poteet leads a group to a record 27-way star.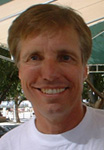 Steve Fielding
- Steve has been jumping since 1966 and was part of the Record of the Month Club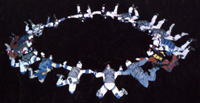 Journey to a 16-way Night World Record
- A group of Southern California jumpers set record after record on their way to the 16-way Night star.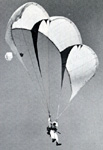 Barish Sailwing
- a single surface high glide parachute


Record 24-way Star
- Jerry Bird leads a group to a record 24-way star.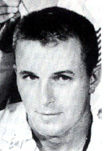 Lew Sanborn
- a skydiving legend that started jumping over 50 years ago and still sets World Records today


Low Altitude, Low Airspeed Parachute
- a 1976 design for emergency escape from buildings


---
---