Featured Exhibits
---
Sign up for the Newsletter
Advertise on ParachuteHistory.com
---
---
Disclaimer
Privacy Policy
About
---
STRAC to USAPT
Information contributed by Jerry Bourquin

STRAC TEAM, The STRAC (Strategic Army Corps) team was the brain child of Brigadier General Joe Stilwell, son of Vinegar Joe Stilwell of the China, Burma, India theater of WWII. Stilwell wanted the Army to have a unit that would represent the Army and also be useful in recruiting men for the Airborne.

The team was started in Nov. 1959 as a special duty assignment. All members were assigned to other units at Fort Bragg. The assigned units did not care much for the absence of the team, as they were filling slots but never present to perform any duties.

The initial team consisted of 12 jumpers and Company Commander, Major Sheppard. The First Sgt. was John T. Hollis. Jerry Bourquin was the 12th and final member to join the team and that was official in April 1960.

First Team Roster
CPT James Perry, Commander
MSG John Hollis, First Sergeant
1LT Roy Martin, Executive Officer
2LT James Pearson, Operations Officer
2LT Douglas Runnels, Public Affairs Officer
SFC Jerry Bourquin, Parachutist
SGT Loy Brydon, Parachutist
SGT Danny Byard, Parachutist
SGT Wilfred Charette, Parachutist
SFC William Edge, Parachutist
SP5 Richard Fortenberry, Parachutist
PFC Keith Jorgensen, Parachutist
SP4 Bobby Letbetter, Parachutist
SFC Herald Lewis, Parachutist
SP4 Coy McDonald, Parachutist
PFC Robert McDonnell, Parachutist
SGT Joe Norman, Parachutist
SFC Ralph Palmer, Parachutist
PFC Roy Smith, Parachutist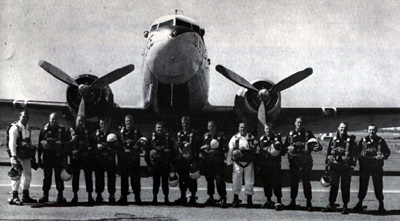 The team was known as the STRAC Team from Nov. 1959 to June 1961. It then changed its name to the United States Army Parachute Team or USAPT.
There was no budget from 1959 to 1961. The team used their money and equipment to put on demonstration jumps. The team found rooming accommodations under bowling alleys, under roller rinks and at private homes. Back then bowling alleys and roller rinks had rooms under them. The managers of these businesses said, "You should be able to get plenty of sleep - we close at 11 PM."
An advance man was sent out to a proposed demonstration site. His job was to meet the organizers, find lodging for the team, find eating facilities, locate a drop zone and last but not least find an aircraft to jump from along with coordinating with the local law and the FAA. Each team member took turns acting as the advance man.
The only money the team drew beyond their pay was meal rations as if they were eating in the mess hall.
During this time the STRAC team had to demonstrate to the Department of the Army that they were able to represent the US and the US Army in the areas of Aerial Demonstrations , World Parachute Records and World Parachute Competition. The team accomplished the mission and was approved as a US Army Organization in 1961.
The team had an open competition to submit a rendering for a "Pocket Patch" for the team. Six entries were submitted. The Owl's Head with the knights helmet, submitted by Jerry Bourquin and co-authored by Lt. William Goodrich, was selected as the pocket patch for the team. Since 1963, the symbol has become recognizable worldwide to mean the 'Golden Knights', the knickname of the USAPT.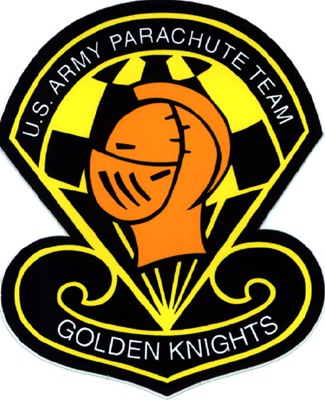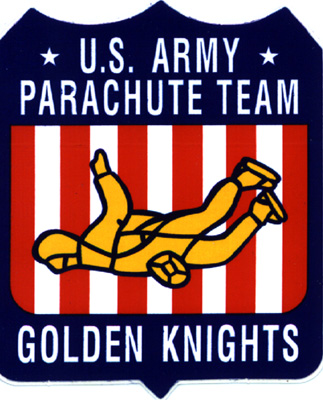 ---
---