WALLY
by Dick Gays
I liked the first 'Wally' video and having been toying with the idea of making special parachutes rather like the hot air balloon people do so well. I wrote to Leo Dickinson (we had not then met) to suggest to him it could be done. Leo did not believe it, thinking I was a crank and nearly binned my letter, but showed it to Pete Reynolds who plays the part of Wally Gubbins. Pete knew about my work on previous unusual parachutes and suggested it was worth a try.

Well believe it or not, this is a single 'L' that was the first and easiest part to make of a double 'L' parachute. On this parachute the two 'L's were preceeded by 'W' and 'A' and followed by 'Y' to make 'WALLY'.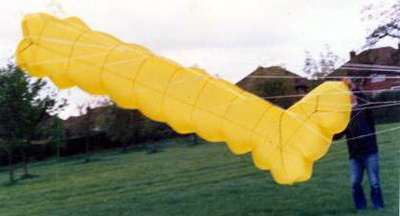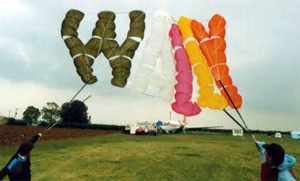 "WALLY" was originally made with drive slots and was steerable, though not in the manner intended. After a couple of sandbag tests which were O.K. I live jumped it in the cut away rig. Good opening! (well it opened) but the letters were crashing into each other and trying to go their own different way. The steering was rather interesting, pulling down on the right steering toggle did produce a slow shuffling sort of right turn, pulling down on the left steering toggle caused utter confusion above and resulted in another slow right turn. What a WALLY.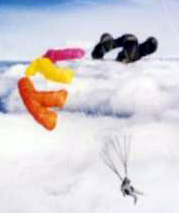 With the steering / drive slots sewn closed and the steering lines removed WALLY was slightly better behaved although the individual letters continued to jostle for space. The most remarkable thing about WALLY was how quickly it was ready for filming and how quickly filming was completed. All over in two sandbag tests, three live tests by myself and two video jumps by Pete Reynolds.

WALLY was designed to be read from below, but most of the photography was from above. By reversing the negative it reads correctly but this has the odd effect of making the parachutist appear to be above WALLY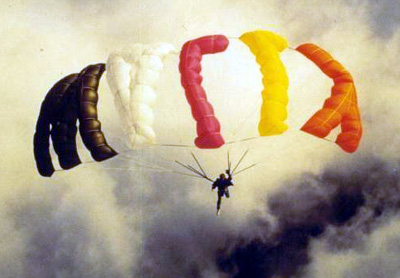 Actual photo of WALLY.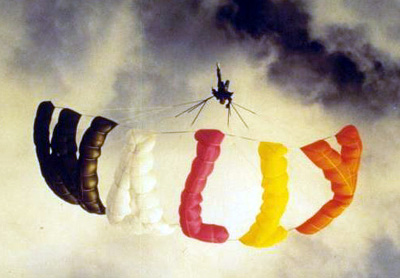 Reversed image of WALLY for the movies.
WALLY was born in 1987.
More Unusual Parachutes from Dick Gays to come.
---
---