A Tribute to Al Krueger
A Tribute to Al Krueger - 2003 USPA Lifetime Achievement Award DVD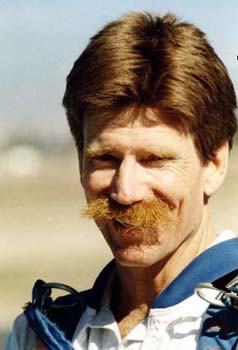 A Tribute to Al Krueger - A 20 minute DVD is available of the life of Al Krueger that was shown at the presentation of the 2003 USPA Lifetime Achievement Award to Al Krueger on Oct. 9, 2004 at Perris Valley Skydiving. The DVD includes the full audio with historical voice over.

The DVD costs $6.95 and $3.85 for shipping. Total is $10.80.

Order via PayPal

or send a check or money order to:
Jan Meyer
PO Box 2581
Hemet, CA 92546

Please include your shipping address.

A Tribute to Al Krueger is a collection of video, photos and historical narration on Al's contributions to skydiving over 40 years.
Credits

AL KRUEGER USPA LIFETIME ACHIEVEMENT AWARD

A TRIBUTE

COMMISSIONED
CHRIS NEEDELS
LARRY BAGLEY
JOHN DeSANTIS

DIRECTED BY
KEN CRABTREE

EDITING
K.D. CRABTREE, 
a.s.c.e., m.o.u.s.e.

GRAPHIC ARTist
TRICIA CRABTREE

NARRATOR
DUFFY FAINER

Historical research
JAN MEYER
KEN CRABTREE
PJ KRUEGER
LINDA WITTE

PHOTOS PROVIDED BY
JAN MEYER
DAVID KEITH
TOM SANDERS
RAY COTTINGHAM
CARL BOENISH
M. ANDERSON JENKINS
ALAN BABICH
PURUSHA SHAKTI (PURPLE PATTY)
LINDA WITTE
STEVE FIELDING
USPA PARACHUTIST
KEVIN GIBSON
PJ KRUEGER
BUD KRUEGER
CRAIG FRONK
PAT/JAN WORKS
KENT LANE
LAURA MADDOCK
craig meyers
TONY BROGDON
NORMAN KENT
ANDY KEECH
KEN CRABTREE
and many others

FILM/VIDEO FOOTAGE
TOM SANDERS
CRAIG FRONK
JIM WALLACE
Bob Buehrer
KEN CRABTREE

Music
"Crossfire"
Stevie Ray Vaughan
&
Double trouble

---
---