Parasled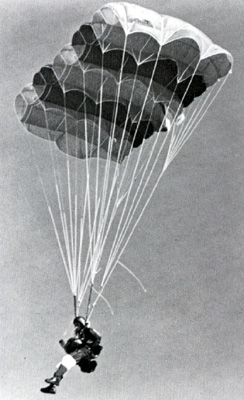 The Parasled was introduced in the latter part of 1972 by Aerofoil Systems Inc. It was a canopy modeled after Domina Jalbert's Sled.

The Sled had only 3 lines in the chordwise direction (compared to 4 in today's ramair parachutes). The forward two sets of lines (the A and B lines) connected to the front risers. The aft line set (the C lines) and steering lines connected to the rear risers.

The steering lines, attached to the trailing edge, cascaded into 6 attachment points. Each cell had flares along the chord where the lines attached to the lower surface.

The lines were longer at the wingtips to give the airfoil a flatter inflated profile.

The trailing edge was notched at each side of the center cell to isolate the control surfaces. This provided more responsive turns with smaller toggle pressure.

The reefing system was not perfected when the canopy was first on the market. The manufacturer recommended it only be used on delays less than 5 seconds and exit airspeeds less than 70-80 mph.
Physical Data
span
15' 10"
chord
12'
aspect ratio
1.25
planform area
190 sq. ft.
suspension lines
750 lb. nylon
steering lines
550 lb. nylon
cells
5
fabric
1.2 calendered and treated ripstop nylon called stablekote
Performance Data
full flight forward speed
20-25 mph with 170 lb load
descent rate
13-14 fps with 170 lb load
turns
'breathtakingly fast' with a swing of 35-45 degrees
---
---