Low Altitude, Low Airspeed Parachute
The original use of parachutes was as an emergency escape system from burning buildings. Fauste Veranzio made several successful jumps from buildings with a rigid frame parachute in 1595 or 1617 (accounts vary).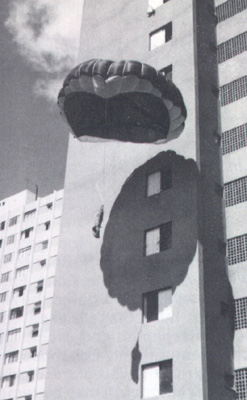 In 1976 another building escape parachute was developed by H. O. Bucker of San Paulo Brazil.
The canopy was made from LoPo material and had only 3 non-entangling suspension lines. It had a pre-inflatable tubes expansion system, that allowed the canopy to open almost instantaneously at the beginning of the jump.
System Specifications:
Diameter: 6.76 m (20.6 ft)
Skirt Length: 18.5 m (56.3 ft)
Weight: 12.6 kg (27.8 lbs) - includes a 5 kg (11 lbs) CO2 cylinder
System Performance Data:
Descent Rate: 4.2 m/s (13.8 ft/s) with a 55 kg (121.2 lbs) load.
The test drop shown in the photo was from the 8th floor of a building.
In addition to emergency building egress, Bucker suggested that the system could be used for low altitude helicopter jumps, instructional tower jumps, sport BASE jumping and could be adapted for use an emergency paraglider system.
---
---