Para-Commander
The Para-Commander (PC) was a modification to an ascending parachute design by the Frenchman Pierre M. Lemoigne. In 1961, Pioneer and Parachutes Incorporated (PI) developed the Para-Sail.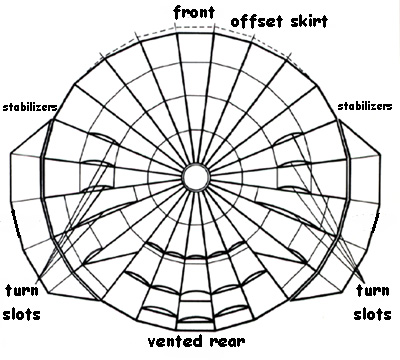 Planview of Para-Commander
The first public demonstration of the PC was at the Orange Sport Parachute Center in Massachusetts 1962. (PI owned this DZ.) By the 1966 US National Parachuting championships, all competitors were using the 'hot high performance PC'!
Compared to the more common flat circular, with or without modifications, the PC had a 'large' glide ratio and landings were very soft.
Performance Data
Rate of Descent:
15.7 fps at 190 lbs suspended weight
17.6 fps at 250 lbs suspended weight
Lift to Drag Ratio:
1.16
360 degree turn:
3-4 sec.
Deployment Times:
Hop and Pop: 2.4 sec.
Terminal Velocity: 1.7 sec.
Landing Force:
equal to a jump from 3-3.5 feet
Maneuvers
turn, brake and stall
The Lift to Drag (L/D) ratio was nearly double that of a TU, 0.7.
The slow descent rate was because a lower porosity nylon taffeta and the lifting characteristics of the parachute.
The increased glide was because
air was directed rearward instead of upward by the many slots,
the pulled down apex allowed the canopy to spread more and maintain a better aerodynamic shape,
the stabilzers also helped maintain a more elliptical shape of the canopy and
the skirt of the leasding edge is higher and descreases the drag.
Para-Commander Technical Data
Design:
24 foot diameter canopy
Fabric Weight:
2.0-2.25 oz/sq yd
Fabric Breaking Strength:
warp: 80 lbs/in
fill: 60 lbs/in
Fabric Tear Strength
warp: 5 lbs
fill: 5 lbs
Fabric Porosity:
3.0-10.0 cu ft / sq ft / min
Suspension Line Tensile Strength:
550 lb each
Deployment Device:
sleeve
Pilot Chute:
40 inch low porosity canopy, 9 inch crown, 20 inch spring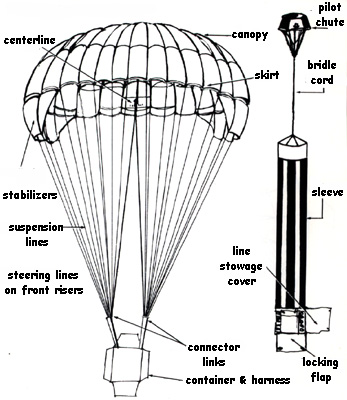 Full View of Para-Commander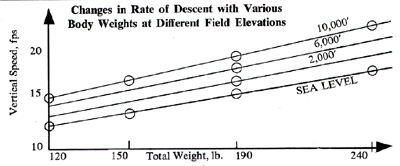 Rates of Descent vs Weight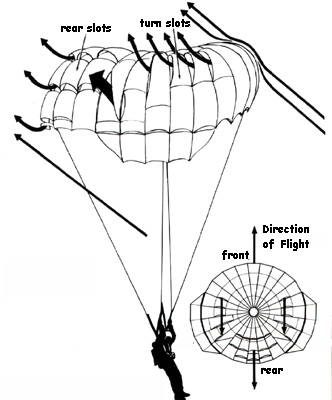 Airflow at steady state (no turns or brakes)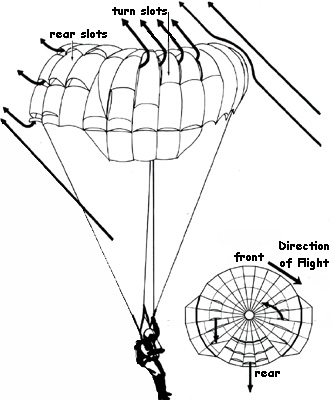 Airflow during a right turn with no brakes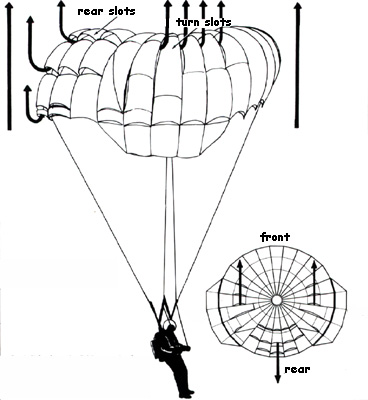 Airflow during flare
---
---