Sierra Lite Main
The Sierra Lite main canopy was introduced in 1977 by Security Parachute Company, based in San Leandro, CA. Security claimed the Sierra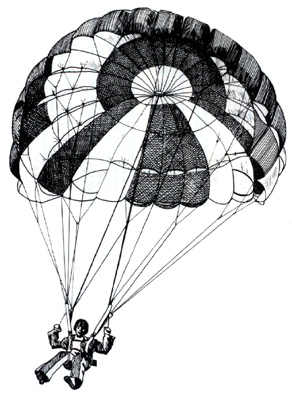 Lite had performance and safety features that were unmatched by other rounds available. Turns, full brakes and stalls could be performed under the Sierra Lite.

The canopy with risers weighed 9.3 pounds. Cascaded suspension lines reduced the weight and bulk of the Sierra Lite. Twenty-four radial lines were cascaded into 12 suspension lines. The suspension lines, below the cascade, had 550 pound breaking strength. The line above the cascade was 425 pound line. The line was coreless braided line, treated with Carbo-Set solution to resist abrasion.

The lines were directly attached to the main risers, eliminating the need for connector links.

The Sierra main also had a pulled down apex (PDA). Half-inch tubular nylon was used on the centerlines.

The canopy fabric was 1.5 oz/yd ripstop. It was not coated, but was finished to provide greater tear resistance.



Specifications:
L/D:
1.18:1
Diameter:
24 ft.
Suspension Line Length:
17' 4"
Apex Line Length:
19' 11"
Rate of Descent:
16 fps at 200 lbs. suspended weight
Forward Speed:
18.9 fps at 200 lbs. suspended weight
Deployment Device:
bag
Colors:
Red, white, blue, yellow, black and green.
Vent was all white.
Patterns: Solid, 2-color (see photo) or checkerboard.
Cost:
Canopy and risers: $ 355.00
Deployment Bag: $ 23.75

---
---