First Air-to-Air Video Jumps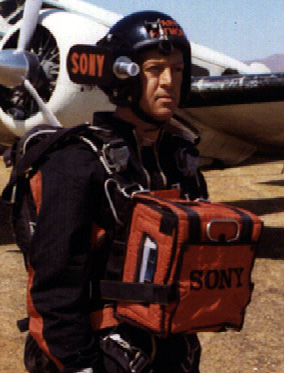 State of the art portable video equipment in 1971 was built by Sony. There was a 16 mm black and white, reel-to-reel tape deck, a battery pack and a camera. A two-foot long cable connected the camera and deck. The deck weighed more than 20 pounds. The ripcord handle on the front of the pack was a quick release, in case Gary landed in water.


Gary Patmor was contracted by SONY to help promote the new portable system. He modified the camera and mounted it to a helmet. The modification was a change to the camera housing.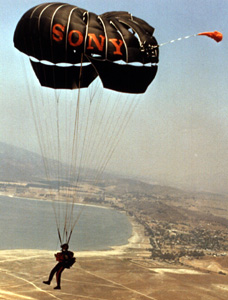 Gary jumped the system along with a SONY Paracommander. In Washington DC at the Dulles Transpo 1972 International Air Show he filmed a skydiving exhibition team. He also filmed jumpers training for style, relative work and fun jumpers in 1972 and 1973.
The photo of the SONY PC was taken at Lake Elsinore.

Gary also talked SONY into providing video equipment for the X World Parachuting Championships in 1972 at Tahlequah OK.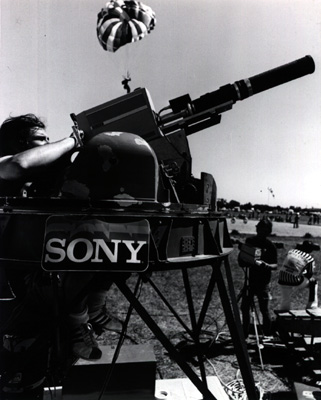 SONY provided monitors, mixing equipment and a camera. The camera and a long lens was mounted on a gun turret. This equipment allowed spectators and contestants to watch live style competition jumps. Judges used the footage too review disputed scoring.

Gary filmed these events for ABC's Wide World of Sports with 16 mm movie cameras.
US Nationals 1968-1970
IX World Parachuting Championships, Graz, Austria
X World Parachuting Championships, Tahlequah, US
Gary was a member of the Screen Actors Guild and performed more than 400 stunts for movies, TV and commercials. He doubled in shows that starred Steve McQueen, Ben Gazzara, Lloyd Bridges, Robert Vaughn, James Franciscus, Vic Morrow and Cliff Robertson.
---
---