USPA Achievement Award
USPA Achievement Award Established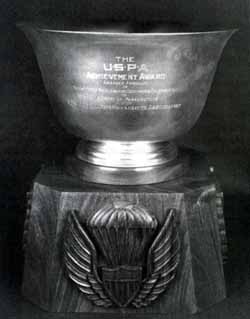 In 1971 the USPA Achievement Award was established to recognize a retired or active jumper that made selfless and continuing contributions to the sport of parachuting and the United States Parachute Association.
Funds for this award were donated by an anonymous donor and are administrated by the NAA. The donor gave $3000 in 1969 and a second $3000 donation in 1971.
The award is supposed to be presented annually. Some years there was no presentation.
The USPA BOD also added additional conditions on this award. The award had to be given to someone making contributions over a long period of time, not just a one time accomplishment and that members of the BOD are not eligible until two years after they have retired from the BOD.
List of Recipients
1971 Joe Crane (posthumously) - "For unselfish and dedicated service as founder, president, and chairman of the board of the National Parachute Jumpers and Riggers and its successor, the Parachute Club of America."
1972 Lew Sanborn, D-1 - "For originating safe and reliable parachute equipment, for pioneering work in freefall photography, and for many other contributions to the sport and USPA."
1973 Steve Snyder, D-5 - "For pioneering contributions through the years to the saving of lives and the improvement of parachute equipment."
1974 United States Army Parachute Team - "Generous and dedicated sportsmen, celebrated competitors, respected leaders who since 1961 have introduced parachuting at its best to worldwide millions and have brought honor and distinction to the sport."
1975 Lowell Bachman - "For service to the United States Parachute Association and all competitors as judge and chief judge at countless national championships, and as a dedicated leader in the development of judging excellence."
1976 - no award presented
1977 Russ Gunby - "A founding spirit who saw the future when others doubted. As author, executive director, and P.C.A. president, he gave countless hours to build the early framework of our sport."
1978 Len Potts - "In recognition of personal sacrifice and countless contributions to skydiving and this organization spanning our decades as a sport. His past is our present."
1979 - no award presented
1980 Dan Poynter, D-454 - "Prolific author, distinguished instructor, preeminent parachutist, whose service to skydiving spans more than 20 active years."
1981 Norman E. Heaton - "In eleven years of devoted service as executive director, he contributed substantially and uniquely to USPA's greatest growth."
1982 - no award presented
1983 James F. "Curt" Curtis - "A total contributor to our sport and USPA: competitive champion, headquarters executive, drop zone owner, safety officer, director, board chairman." [For some reason, his service as USPA president was not recorded.]
1984 Chuck MacCrone - "In recognition of outstanding contributions to sport parachuting and as a testament to his unparalleled service as president, FAI-IPC."
1985 - no award presented
1986 Jack Bergman (posthumously) - "USPA Director 1967-1984, Treasurer 1967-1984, National Championships Meet Director 1975-1984. With selfless devotion he gave a quarter century to skydiving and USPA."
1987 Carl Boenish (posthumously) - "A prolific and talented skydiver whose lifetime of pioneering freefall photography brought unforgettable images and better understanding to fellow jumpers and the public."
1988 - no award presented
1989 J. Scott Hamilton, D-514 - "For service to USPA and the skydiving world 1967-1979, a Collegiate League director, Safety and Training Committee chairman, and USPA president."
1990 Ken Coleman (posthumously) - "World and national champion who created the accelerated freefall program."
1991 - no award presented
1992 - no award presented
1993 Loy Brydon, D-12 - "In recognition of major contributions to parachuting in the development of equipment, freefall techniques and competition-an original role model of the total skydiver."
1994 William H. Ottley, D-298 - "In recognition of more than three decades of dedicated service to skydiving and USPA, as board member, vice president and executive director."
1995 Dick Barber, C-2375 - "For dedicated service to all competitors as a judge at countless U.S. Nationals and world championships, and for the inspiration provided to judges."
1996 - no award presented
1997 Clint Vincent - "Selfless service for the betterment of all aspects of skydiving and in support of all skydivers."
1998 Patrick M. Moorehead - "For unselfish dedication to the United States Parachute Association since 1969 as an ambassador extraordinaire while traveling the world as a member of the board of directors and as a professional skydiving performer."
1999 - no award presented
2000 - no award presented
2001 - no award presented
2002 - no award presented
---
---