Featured Exhibits
---
Sign up for the Newsletter
Advertise on ParachuteHistory.com
---
---
Disclaimer
Privacy Policy
About
---
D. Jan Stewart
Mountain Region Candidate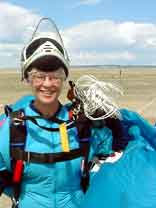 Occupation:
Publications Editor
Environmental and Societal Impacts Group
National Center for Atmospheric Research
Boulder, Colorado USA


First jump: September 3, 1990. Made 301 jumps in 1991, my first full year.

Total jumps: 3,050
D License 14580
AFF/SL-I since 1994
Coach Course Director
AFF Evaluator
Achievements:
I have maintained a tent at the World Freefall Convention for lower-time jumpers and low-pressure skydives for 9 years now. It's been very well received, and this year (2002) we barely had enough organizers for the numbers of people who used our services. Safety and fun are emphasized.
I have held 4 Coach Courses in Colorado and have helped more than 30 people in Colorado get their rating. Over the years since I received my AFF rating, I have made almost 800 student jumps.
Why do I want to be on the USPA BOD?
This is a very important time in skydiving history. We are moving into a new phase where many people are coming into the sport for a variety of reasons. Because of modern gear, it's very easy to become a skydiver, but not so easy to receive good instruction beyond AFF. The ISP is a good start in the right direction, but the concerns of small DZs across the nation need to be better represented on the BOD. It seems there is a preponderance of DZOs and professional skydivers on the Board at present, and the small Cessna DZ with a Static Line program is underrepresented.
I work at three Drop Zones in Colorado: in Calhan (Front Range Skydivers), Brush (Denver Skydivers), and Longmont (Mile Hi Skydivers). I can take their concerns, as well as those of the other DZs in the region, to the Board and make our voice heard.
---
---