1982 USPA Reapportionment
In 1982 USPA changed the elected officials representation of its membership. USPA added two new regions (called conferences at the time), yet kept the total number of elected officials constant. There were only 8 National Directors (ND) as opposed to 10. The new conferences were the Mid-Atlantic and Gulf. Several regions had new boundaries. These changes were proposed to lighten the load the workload of Board members, offer better service to members and improve the way USPA's Board functions. The changes were announced to membership and voted upon by members present, no proxies or write-in ballots, at the July 2, 1982 General Membership Meeting (GMM).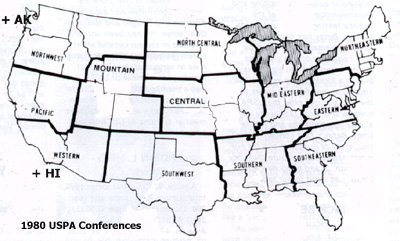 USPA presiding Board members even extended the deadline for filing applications for candidacy to July 30, 1982 at the April 1982 Board meeting. This was to give sufficient time for interested members to submit the letter of intent. This statement appeared in the same inset, "As defined in USPA Standard Operating Procedure 20, rules governing USPA elections are strict and inflexible and are followed exactly."
USPA published a 2-page article, written by Executive Director William Ottley, describing the changes in the June 1982 issue of Parachutist. Details mentioned above were explained and there was a big map of the US showing the new regions and a sample ballot.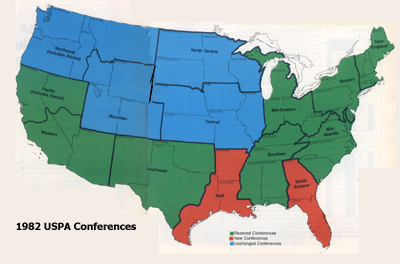 The wording adjacent to the ballot says: "The rules say that those attending the General Membership Meeting have the sole power to change the size, the shape, and the composition of the USPA Board of Directors. Therefore, no write-ins, and no proxies are possible. All USPA members in good standing who intend to be present at the meeting are urged to review the reapportionment proposal and study this map carefully, in order that you may be fully informed when this question is brought before the members at the General Membership Meeting."
In the next issue of Parachutist, July 1982, Pacific Conference Director Bob Bonitz had an article that explained the duties and responsibilities of a Conference Director. This article was very timely in the promotion of getting more people to run for Conference Director. Bonitz detailed many of the tasks a Conference Director would be expected to perform.
The reapportionment vote was held at a General Membership Meeting held July 2, 1982 in Muskogee, OK. The GMM was held during the same time period the US Nationals were held. Attendance at this meeting was much higher than the handful of people that attend GMMs today. No exact head count was performed to see if there were at least 10% of membership present and accounted.
The way USPA operated back then was to hold a meeting during a skydiving event that was well attended. Today, USPA holds it meetings separate from what jumpers do- jump. Member attendance at the GMMs is low because skydivers are out jumping. There are no advance announcements of what is on the agenda for voting at an upcoming GMM as there was back in 1982.
November 1982 Slate of Candidates:
National Director
Bob Sinclair
Jack Bergman (won)
Mike Douglas Parnell
Donald Lewis Rumble
Larry Miller Riddle
Michael Truffer (won)
Joe Svec
Gene Mike Bland
Robert Jacob Buehrer
Larry K. Bagley (won)
BJ Worth (won)
Pat Works (won)
Sherry L. Schrimsher (won)
Garry Carter (won)
Steve Noonan
Craig C. Fronk (won)
(16 ND candidates)

Central Conference
Bill Clifford Hayes (won)

Eastern Confereance
W. Boulton Alexander (won)
David W. Waight

Gulf Conference
Elizabeth P. McMillian
Vern Melancon (won as a write-in)

Mid-Atlantic Conference
Gene Paul Thacker (won)

Mid-Eastern Conference
Nancy Jean Dwyer
Michael Horan (won)

Mountain Conference
BJ Holtgrewe (won)

North Central Conference
No one on the ballot
Mike Lavigne (won by write-in)

Northeast Conference
H. James Mowrey (won)

Northwest Conference
Lynda Y. Forney
Thomas C. Heinecke (won)

Pacific Conference
Robert G. Bonitz
Paul Joseph Sitter (won)

Southeastern Conference
Don Kent Yahrling (won)

Southern Conference
King Morton (won)

Southwest Conference
Bobby G. Coker
Jerry J. Schrimsher (won)

Western Conference
Patrick N. Moorehead (won)

In the previous election in 1980, there were 13 ND candidates for the 10 ND positions, 3 conferences had no candidates and only two conferences had two people running.
---
Geronimo wants to know, if proxies were not allowed in 1982, why are they ok in 2002? If there were not 10% of the membership present in the 1982 GMM vote, does that mean the reapportionment is invalid? -that the Gulf and Mid-Atlantic Conferences (regions) do not exist?
---
---
---