X-38 Recovery Parafoil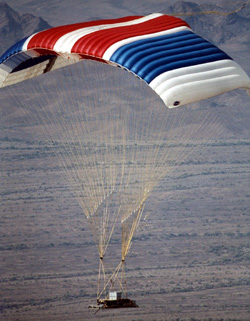 The X-38 space vehicle is an emergency vehicle for the International Space Station (ISS). It may one day carry 7-8 people from the ISS back to Earth. After the X-38 re-enters the Earth's atmosphere, a large parafoil is deployed to slow it's descent.

A very large parafoil is under development and testing by NASA. The parafoil has a surface area of 7,500 square feet. The nominal payload weight is 15,000 pounds and touchdown descent rate is 8 ft/sec. Wing loading is 2.0.




Reefing is done using cutters on restricting lines. Watch the deployment of the parafoil during a test drop and see the reefing in action. MPEG (1.7 MB)

The second flight test was conducted on March 5, 1999 at NASA Dryden Flight Research Center, Edwards CA. The test vehicle was released from a B-52 at an altitude of 30,000 feet. The vehicle descended for approximately 12 seconds before the parafoil was deployed. The parafoil was then guided to its landing point. Watch the landing. (MPEG 1 MB)
Check back for specifications of the X-38 Recovery Parafoil
Photos and movies from NASA.
---
---